How to take care of children during the COVID-19 epidemic season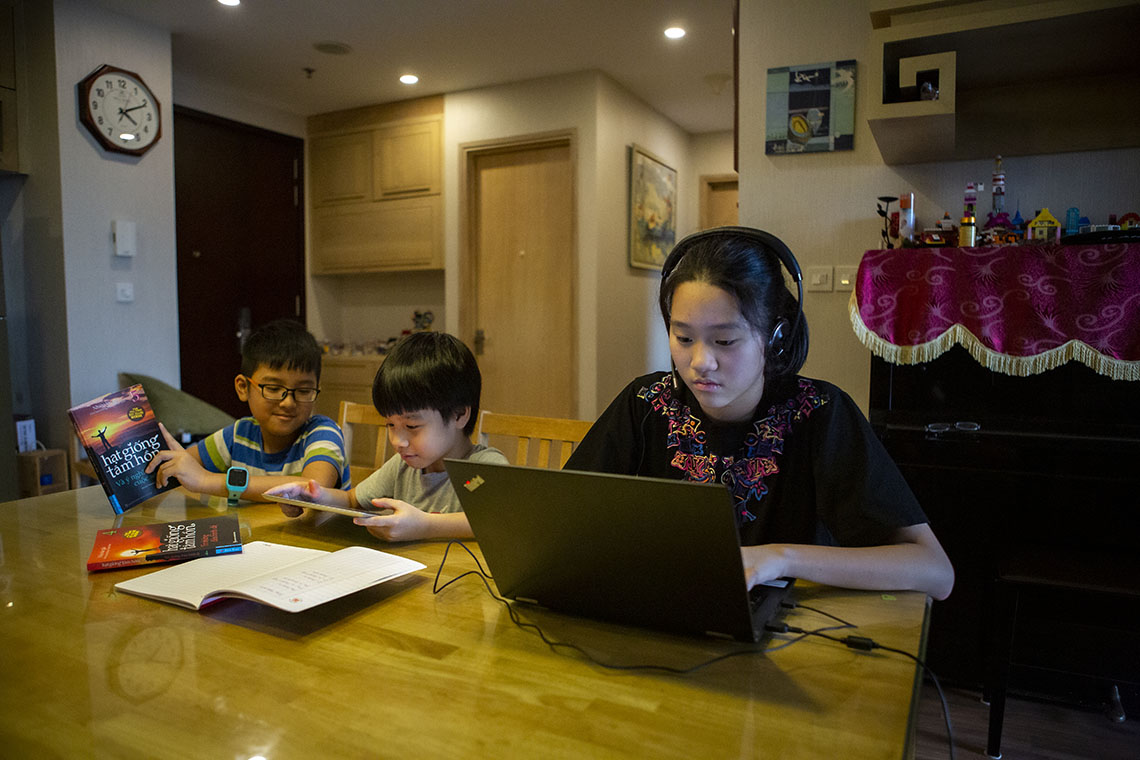 Children and teenagers now spend more time online. Being connected reduces the impact of COVID-19 on your child and encourages him to continue with a familiar rhythm, but it also carries risks and dangers.
Risks in the network environment
• Bad guys target children for sexual purposes through social media, gaming, and texting
• Toxic content – violence, prejudice, xenophobia, incites suicide and self-harm, misinformation, etc.
• Children, especially their "teenagers", can share personal information and sensitive pictures or videos of themselves online.
• Being bullied online by acquaintances and strangers
Technology tips to help parents protect their children online
• Set parental control mode
• Turn on Safe Search in the browser
• Set up strict privacy on online apps and games
• Cover / turn off the webcam when not in use
Create healthy and safe online habits
• Encourage young children or "teenagers" to participate in developing family rules for healthy use of equipment.
• Creates home-free spaces and times (time to eat, sleep, play, and study).
• Teach children how to keep personal information private, especially from strangers – some of them may have a different cover.
• Remind your child that what is posted online cannot be recovered (messages, photos and videos)
Spend time with your kids online
• Explore web pages, social media sites, games, and apps with your child
• Talk with special "teen" children about how to report inappropriate content (see below)
• Parents can refer to the page "Common Sense Media" for many useful tips on applications, games and entertainment suitable for children of many ages.
Open communication with your baby will help keep your child safe
• Tell your child that if they have experiences online that make them uncomfortable, uncomfortable, or scared, they can talk to their parents without fear that their parents will get angry or punish them.
• Watch for signs of depression in your child. Note if your child is withdrawn, upset, secretive, or obsessed with online activities.
• Creates trusting relationships and open communication with children through positive support and encouragement.
• Note that each child is unique and communicates in different ways. Parents need to tailor the message to their child's unique needs and characteristics. For example, children with learning disabilities may need information in simple language.
Share with colleagues, friends and family | Spreading information | Ensure safety for children in the online environment
Report acts of violence against children in the Internet environment:
National Child Protection Switchboard 111 (open 24/7)
__
Blue Heart | Say no to VIOLENCE. Protect children. Safe for Women
#DefineBlue # SayNoWithVIRON #ProtectBaby #Safe For Women
Join our campaign
BY GIVING OUT A BLUE HEART
To end violence, protect children and women
ESSENTIAL SERVICES FOR CHILDREN AND WOMEN AS VICTIMS OF VIOLENCE